The world is changing rapidly in the last few decades, this is clear to all. Important establishments, behaviors and business lines are long gone… (Remember the Automatic Video Machine? Asking people in the street for directions?). Surprisingly enough, the public libraries are not dead, and even flourishing! How can it be? I believe the reason is the social impact. People still need and want to interact and the public libraries is a great place to do so, if you need to study.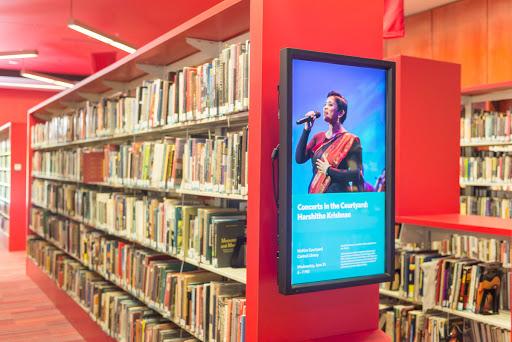 Digital Signage for public libraries is also becoming a great way to communicate with the visitors of the public library. From general public library announcement on screen for any special and upcoming event, to community (or university/school) news, promotion of activities and websites and obviously, the library's social network feeds.
So, if a famous writer/scientist/politician is going to be signing his new book and speaking to the crowed in the public library – the most natural way to promote this is using the already existing digital signage software platform. Together with Social network feeds, it creates the best interactive promotion for the intriguing event. People can start a debate; ask questions, exchange ideas on the digital signs for the public library and the debate will continue in the social networks.
Libraries display software are most commonly an online, cloud based digital signage CMS (Content Management Systems) and a player software for one of the most common player operating systems (Android, Windows and lately Chrome OS is picking up speed). As digital signage software providers usually offer a special pricing for education (applies for public library as well), together with the low prices of screens and professional players, it seems like digital signage is the perfect solution, for any budget.
So, if you do need public libraries announcements (Silent messages, obviously – creating digital signage for your public library is the right solution.